Remember last week when I told you about
five foods I wanted to try
?  Well, I had so much fun bookmarking recipes throughout the week last week, that I decided I'd start doing it weekly as a series.  The
Five Foods I Want To Try
series is in full swing! 
Enough blabbing – let's get down to business.
I'm not going to lie – my favorite mac 'n cheese to this day is the stuff from the blue box.  But throw some
breadcrumbs with rosemary on top
and I may find a new #1. 
Heather
did just that this week.  Though I never
loved
homemade mac 'n cheese, the bread topping has always been my favorite part.  Sourdough and rosemary?  Sounds good to me!
It seems this time of year, no one can eat enough apples.  Same with all members of the winter squash family – pumpkin, butternut and acorn, etc.  That's essentially why I immediately bookmarked this
Maple Butternut Squash & Apple Casserole
.  The name essentially speaks for itself, but
Angela's
step-by-step instructions (and amazing pictures) will have you running to pick apples so you can make her dish.
Then, there was this….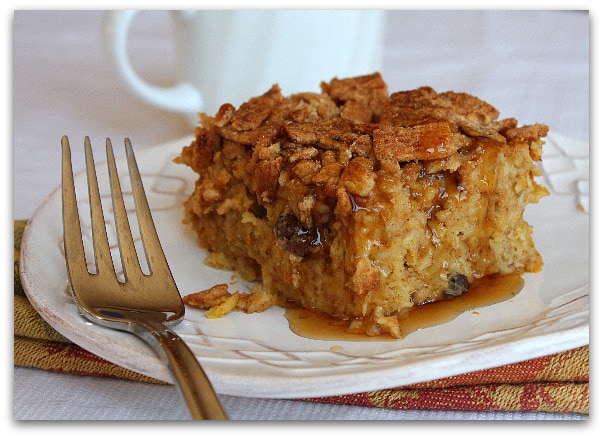 As much as I may enjoy healthier "grown-up" cereals like Quaker Oatmeal Squares, my two all-time favorite cereals are Oh's and Cinnamon Toast Crunch.  You see that cereal topping on
Lori's
baked oatmeal?  Yeah, that's Cinnamon Toast Crunch.  Sitting atop
baked pumpkin oatmeal
, drizzled with maple syrup.
That oatmeal is a tough act to follow, but nothing the
Blue Eyed Bakers
can't handle.  I love Katy and Abby's traditional-gone-creative recipes, and
this carrot cake
doesn't disappoint. 
Three words: Maple Mascarpone Icing.  And don't worry, all the carrots in the cake cancel out the icing. 
Lastly, because I'm afraid you won't be drooling enough at this point, we have these. 
Don't you just want to take a bite of the center of that
orange roll
? 
Emily
has tested her recipe for these a few times, and I'm glad she finally shared it with us.  While I certainly cannot afford to devour orange rolls everyday, I think we could all use one (or two?) every (other?) weekend.  Good for the coat, you know?
What recipes caught your eye this week?